---
Out now: 2017 Kids Count County Rankings/ Pocket Guide
Advocates for Children of New Jersey (ACNJ) released its annual Kids Count county profiles and pocket guide today, comparing the state's 21 counties across 12 measures of child well-being and providing 5-year child trend data at the state and county level. Read more…
This year, instead of giving an overall rank for each county, ACNJ took a different approach, comparing counties across four domains: child and family economics, child health, safety and well-being, and education.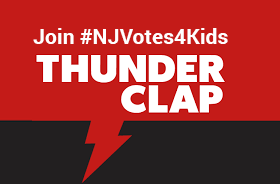 ACNJ President/CEO Cecilia Zalkind encourages voters to use the Kids Count data to engage with candidates and drive positive outcomes for children, in light of the upcoming election this fall when New Jersey elects a new governor and legislator. Remind candidates to raise their voices for children.
Join the #NJVotes4Kids Thunderclap!
As part our election advocacy campaign, ACNJ will be hosting its first Children's Summit on Tuesday, September 12th. Mark your calendar! Details to follow..